Celebrating the Uniqueness and Beauty of All!

My work, and this site, is dedicated to helping you fulfill your true potential.  Whether that is through private sessions, or group trainings, I love helping people get out of pain and live lives full of meaning, beauty, and laughter!  I just so happen to do the same with horses!
"I learned more from working with Gloria than I did in two master's degree programs!"
Linsay Ransom, Intuit Software,  Tucson, AZ
  I work with individuals like you, and I also train practitioners.  I'm here to help you develop your intuition and your craft so that you can be the director of your own life.
"Knowledge is a rumor until it lives in your body"
Here's a recent testimonial ~
Results of one session for a hand injury:
"I want to share about a recent session I had with Gloria Hester. I injured my ring finger on my left hand. I thought it was broken because I could not bend it at the joint. I went to the Dr. for an x-ray. My finger was not broken but since it would not bend my Dr. wanted to send me to an orthopedic surgeon.
The Dr. said I had damaged my tendon. They made me an appointment with the surgeon and I talked to Gloria to see if she could help me as I did not want any type of surgery or physical therapy. I cancelled my appointment with the surgeon.
Gloria worked with my hand for one session. There was no pain involved in her work with me and I was able to move my finger freely and have not had any issues since.  My hand is pain free.
I have asked people to pick out the injured finger, and not one person has been able to tell which one I couldn't move before my session. I went back to my Dr last week as it was time for my yearly exam. I saw the nurse practioner first. I asked her not to read my records until we talked first. I tried to get her to pick out the finger I injured as I flexed my hand and she couldn't tell which finger had even been injured. She was quite amazed and so was my Dr. They wanted to know what Gloria did to me. It is very hard to explain her work. She always amazes me each time but this was almost scary. It was amazing. I even told Gloria that if I didn't know her I would have been running to my truck because I couldn't believe what she was able to do. I want to share this because I want people to know you don't always need surgery nor do you need to go through painful physical therapy. You have an alternative method that works and is not painful at all. I highly suggest you schedule a session with Gloria because you will not regret it." Sincerely, Susie Gunnells, AL
email info@gloriahester.com to inquire about registering for the 2018 Facilitator Training Program
 
Somatic Education for Vertebrate Animals ~ SEVA
 
Watch the video below to learn how Gergana went from depressed and uncertain, to a life full of passion, purpose, and courage!

Bringing Horses and Humans Together in a way that Benefits Both!

I hold retreats and trainings for seekers to help them connect deeply with themselves so that they can show up, serve, and fulfill their potential.

Yoga Journal Features My Horse Work
click image to read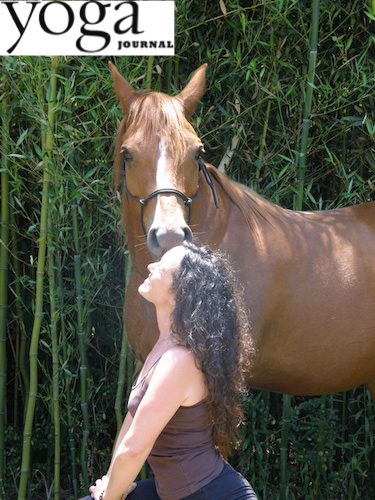 Teaching the unique benefits of somatic education for equines in Oslo, Norway

Working with Pilgrim, a rescue horse in Lisbon, Portugal.
Update – I'm happy to report that Pilgrim now has a wonderful home in Germany!
Testimonial about Pilgrim's Transformation After a Somatic Session

To register for the 2018 Facilitator Training Program email info@gloriahester.com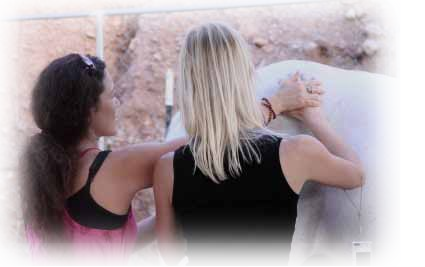 Gloria Hester Yoga ~
Celebrating the Uniqueness and Beauty of All!

Gloria is the Founder of Yogic Wisdom for Horse and Human, and SEVA, Somatic Education for Vertebrate Animals, TM